The volume is addition to the many volumes that have celebrated his anniversaries, some of which were published during the life of Juri Lotman (for his 50th, 60th and 70th anniversary) and after (80th and 90th anniversary). The publications were based on the papers presented in anniversary congresses dedicated to Lotman.
Central part of current volume contains letters exchanged between Lotman and his sister Lidia from 1950 to 1993 with commentary by Larissa Naiditsh; also unauthorised notes from Lotman's lectures on Karamzin (published by Ljubov Kisseljova) and Lotman's review to Boriss Egorov's thesis (edited by Pavel Glushakov).
And Lotman's name cannot be separated from that of his wife, Zara Mints, the volume is also dedicated to her 95th birthday. The second part of the publication contains her paper on Gorki (edited by Lea Pild and Anastasia Jermolajeva) and her recollections on meeting Anna Akhmatovaga (published by Lea Pild, with comments from Roman Timentshik).
The volume also contains papers from the members of "Lotmans department" today, reflecting on Lotman's heritage, discussing authors that were important to Lotman and Mints (Karamzin, Zhukovsky, Küсhelbecker, Tolstoi, Samoilov, Andrei Bely, Gorki, Blok etc.
The last part of the volume presents memoirs of students of Lotman from 1960s and 1970s.
The volume is in Russian.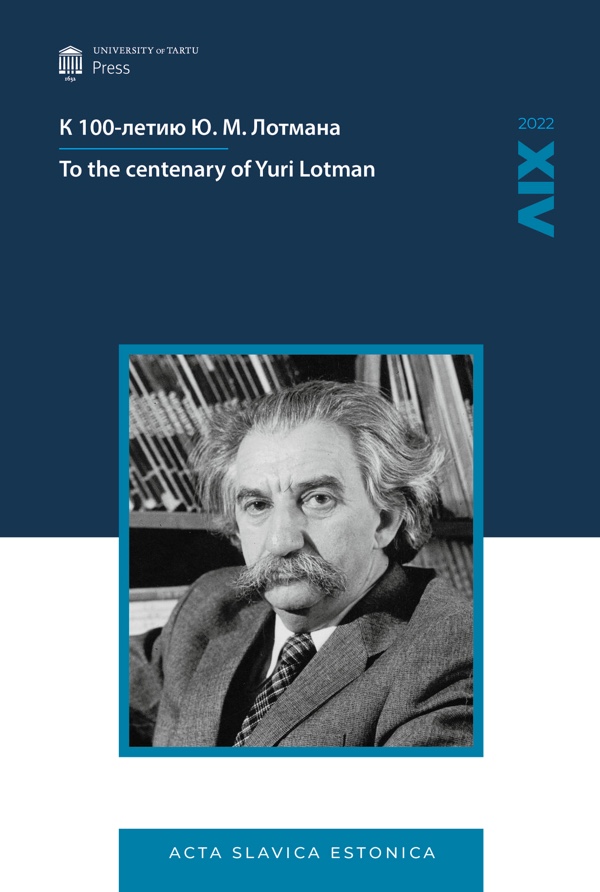 Contents
I
Статьи
Любовь Киселева. «Я написал самую Карамзинскую речь для Российской академии и А. С. Шишкова!» (полемическая речь Карамзина 1818 года)
Татьяна Степанищева. К истории русской рецепции Г. Гейне (В.А. Жуковский, В.К. Кюхельбекер, П.А. Вяземский).
Роман Лейбов. Заумный Толстой.
Роман Войтехович. Воображаемое простран­ство: «Петербург» Андрея Белого и «Попытка комнаты» Марины Цветаевой.
Леа Пильд. Моцартовские и блоковские мотивы в поэтическом цикле Михаила Кузмина «Пути Тамино»
Мария Боровикова, Леонетта Паванелло. Поэтика «Сказок об Италии» М. Горького.
Андрей Немзер. Контексты пьесы Давида Самойлова «Живаго и другие».
Михаил Лотман. К проблеме «Лотман и марксизм»
Екатерина Вельмезова, Калеви Кулль. Ю.М. Лотман глазами современных семиотиков.
II
Публикации
Из семейной переписки Лотманов. Переписка Лидии Михайловны Лотман и Юрия Михайловича Лотмана (1950-1993) / Вступительная статья, публикация и комментарии Л. Найдич
Отзыв Ю. М. Лотмана на диссертацию Б. Ф. Егорова «Русская литературная критика (1848 – 1861 гг.)» / Вступительная статья и убликация П. Глушакова
Спецкурсы Ю.М. Лотмана по творчеству Н.М. Карамзина. Неавторизованные конспекты лекций, прочитанных в Тартуском университете / Вступительная заметка, публикация и комментарии Л. Киселевой
Письмо Ю.М. Лотмана И.З. Серману / Вступительная заметка и публикация Л. Найдич
Воспоминания Зары Григорьевны Минц. об Анне Ахматовой / Вступительная заметка и примечания Р. Тименчика, публикация Л. Пильд
Статья З.Г. Минц о творчестве Горького / Вступительная заметка и публикация Л. Пильд, перевод статьи А. Ермолаевой
III
Воспоминания
Ксения Кумпан. Моя научная школа: Отрывки воспоминаний.
Мария Ионина. Тарту в 1970-е годы. Мои воспоминания